Radically Open DBT Tampa Team
Heidi (Petracco) Ison, MSW, LCSW, QSP
Radically Open DBT Senior Clinician & Trainer
Greetings! As the owner of Radically Open DBT Tampa, I thank you for exploring how my talented team and I offer modern mental health services to the Florida community. I received my Master's Degree in Social Work from Rutgers University—ranked among the Top 25 social work programs in the nation. With over a decade of mental health experience, I have treated diverse people of all ages in community mental health, non-profit organizations, higher education, and private practice settings.
Becoming a Certified RO DBT Senior Clinician and Trainer  has changed the way I practice psychotherapy in helping teens and adults find belonging and contentment after years of suffering with over-controlled coping. In addition to psychotherapy, I offer professional consultation and up to one-day length trainings in Radically Open DBT to improve treatment outcomes with traditionally challenging populations.  A founding member of the RO DBT Adolescent Steering Committee, I actively participate in drafting treatment adaptations for over-controlled teens.  And of course we can't forget about the families…Stay tuned for many exciting new projects to come!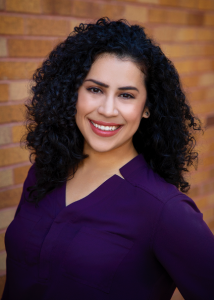 Patricia Casanas, MA, LMHC
I graduated from USF with my Masters degree in Counselor Education, with a concentration in clinical mental health counseling. For the last 7 years, my passion has been focused in the field of disordered eating issues. Throughout these years, I've obtained experience in all levels of care; from residential and partial hospitalization to intensive outpatient programs. I helped pioneer Tampa's first free community support group for eating disorders through The Alliance For Eating Disorders Awareness, a non-profit organization aimed at outreach services for eating disorders.  I am also a member of the International Association of Eating Disorder Professionals (IAEDP) where I remain active in advocacy, training, and activities to enhance services for this population.  Currently, I am completing requirements to obtain my certification through IAEDP as a Certified Eating Disorder Specialist.
Additionally, I have extensive experience in acute care settings with OCD, anxiety and depression, perfectionism, suicidality and self-harm issues. I also have a strong clinical background with exposure therapy, CBT, and have recently become certified in Accelerated Resolution Therapy (ART), a type of eye movement therapy that helps relieve symptoms from trauma, phobias, anxiety, grief, and relationship issues.
I apply a holistic philosophy to my work and use compassion, humor, and cultural sensitivity to connect with my clients during their sessions.  I tailor my sessions for the needs of both adolescents and adults. I am excited to use the skills that RO-DBT teaches to enhance clients' abilities to live fuller lives through increased psychological flexibility and welcome the opportunity to be a part of your success.
Ian H. Barker, LMHC, MCAP, DBTC
I received my master's degree in Counseling Psychology from Saint Leo University and for nearly ten years I have been developing my therapeutic skills in a variety of areas. I have worked to develop community counseling resources for infectious diseases in the Tampa Bay Area. I have worked in various substance use clinics developing my dual diagnosis treatment skills and earning my Master's Certified Addictions Professional (MCAP) certification. My therapeutic training has led me to focus on a mindfulness orientation. My pursuit of developing my mindfulness therapeutic skills has been furthered by my Dialectical Behavior Therapy (DBT) training and certification in DBT therapy. DBT is useful in treating issues such as, under-control personality disorders, difficulty in getting unstuck from extreme emotions and, creating a healthy balance in life.  I remain active practicing my mindfulness skills as part of an Emotional Recovery program that I assisted in developing for a local treatment center.   In 2020 I began intensively training and practicing Radically Open DBT for disorders of over-control. It is my joy to help people discover a greater sense of understanding.  I am looking forward to being apart of your journey.
Courtney Gowen, MSW, LCSW
I received both my Bachelor's Degree and my Master's Degree in Social Work from Florida State University.  Currently, my experience as a clinician includes working with individuals, couples, and families to address concerns of interpersonal relationships, managing and overcoming anxiety, addressing and working through past traumas, and more. Being Level 1 trained in Radically Open Dialectical Behavioral Therapy (RO DBT), I address concerns of maladaptive over-control and am able to work with you to overcome interpersonal deficits by increasing openness, flexibility, and effective social signaling. I'm so glad you've taken the initial step towards self-improvement by seeking therapy, and look forward to being a part of your journey forward!
Shandra Davis, Psy.D.
I have a Master's Degree and Doctorate of Psychology from The Chicago School of Professional Psychology, a Master's Degree in Professional Counseling from Argosy University Atlanta, and a Postdoctoral Certification in Health Psychology from Walden University. I specialize in working with children and adolescents, and their families. I have worked within various capacities: school settings, therapeutic day schools, residential settings, juvenile corrections, outpatient community mental health, and in-home services. I teach undergraduate and graduate courses at Manifest Theological Institute. I also enjoy volunteering with the Suncoast Chapter of the Leukemia & Lymphoma Society, Big Brothers Big Sisters, and conducts mission work in Jamaica. I am a board member of Girls Empowered Mentally for Success (GEMS).
My philosophy when working with clients is to address the whole person (mind, body, and soul). I conceptualize each case from a systemic point of view, which incorporates how an individual and/or family is impacted within their culture, community, and society. I have extensive experience conducting parenting groups and assisting parents in developing skills to meet the specific needs of their family. I look forward to applying the RO DBT skills to positive parenting approaches.