Skills Classes and Groups
Skills classes and groups are offered to provide continuous support and personal development.  Whether you are seeking to enhance your sense of well-being or have healthier relationships, meeting with a trained facilitator and group of like-minded individuals may be just the key you need to discovering a new you!
Radically Open DBT Skills Class  – 90min weekly meetings, $75 per week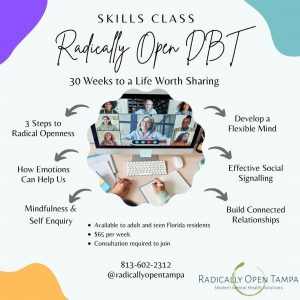 This online class introduces 30 skills of psychological health including flexibility, openness and fostering healthy connections. Learn and practice the principles of Radical Openness, evidence-based in treating depression, anxiety, eating disorders, obsessive-compulsive features and personality disorders. This class is lead by intensively trained RO DBT therapists and a participant PDF workbook is provided. To begin, all participants must attend a screening and orientation appointment.  Class times:
Teens – Wednesdays, 5:00-6:30pm (In-person)
Adults – Wednesdays, 6:30-8:00pm (Online)
Adults – Thursdays, 11:00-12:30pm (Online)
Coming Soon…
Self-Enquiry Journal Club
Advanced RO DBT skills class for Alumni
Grief and Forgiveness Workshops
Important Note: Skills class and group are not a substitute for individual therapy. It is highly recommended that participants to have individual therapist to assist in the implementation of skills in daily life and manage any of personal risk factors.