Radically Open DBT Program
This program is currently full and we are accepting applications for future program participants.
Radically Open DBT is a behavioral therapy program consisting of the following: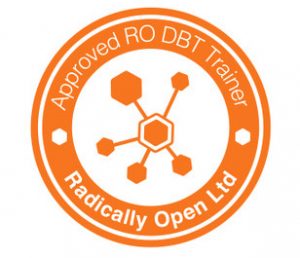 Initial Consultation: A 30min free virtual appointment to discuss your current challenges, review your temperament questionnaires and answer any questions you have about the RO DBT program.  If both parties decide it is a good fit to move forward, the client will be assigned a clinician.
New Patient Assessment: A comprehensive 90-minute appointment with your assigned clinician to learn about your personal history, relationships, current challenges, and valued goals for the future. Clinical impressions and a recommended treatment plan will be provided at the conclusion of this appointment. Fee: $250
Individual Therapy: Personal counseling meetings occur weekly.  Each meeting is structured with an agenda to discuss risk factors, client motivation and engagement, review of diary card, behavior and solution chain analysis, self-enquiry and skills practice.  Diary card tracking and continued practice of skills outside of session is expected to continue the growth process. Fee: $210, 60 min session
Skills Coaching: Skills coaching with an RO therapist is available throughout the week to answer questions about skills and how to best implement in your life.
Skills Classes: Offered weekly to facilitate change and teach skills for flexible coping and improving relationships. Each class is 90 minutes long and follows a research-based curriculum. This weekly skills class introduces 30 skills of psychological health including flexibility, openness, and fostering healthy connections. Fee: $75 per class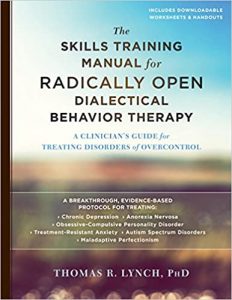 RO DBT Skills Classes
Teens – Wednesdays, 5:00-6:30pm (In-person)
Adults – Wednesdays, 6:30-8:00pm (Online)
Adults – Thursdays, 11:00-12:30pm (Online)
Graduation and Discharge: Upon the completion of skills class, you will have the tools needed to create a 'life worth sharing.'  You and your clinician will evaluate the progress made on your behavior targets and valued goals to create a plan for discharge.  Most clients complete the full program in a 9-month time frame.
Parent and Family Coaching:  Parent coaching and consultations are offered to the families whose loved ones are receiving RO DBT counseling services.  Research shows that a supportive environment and strong relationships are essential for good mental health outcomes.
Investment
Quality mental health care is an investment in yourself. We are a private pay, specialty outpatient practice with treatments tailored to your personal needs and privacy. We are happy to provide you with detailed receipts if you choose to file for out-of-network reimbursement with your insurance company.
All services are provided in a confidential and inclusive environment, to ensure your ultimate privacy and comfort.